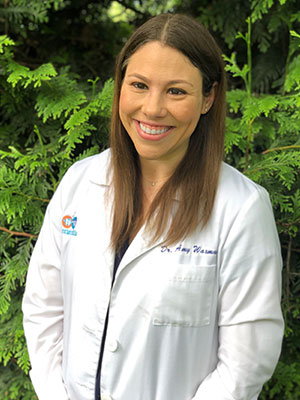 Our owner and pediatric dentist, Dr. Amy Waxman, hopes for every child to have a fun and positive experience at the dentist and hopes to alleviate fears for anxious children. Her primary goal is to develop long lasting relationships with her patients and their families and to provide the best care possible in a warm, caring, and child friendly environment.
Dr. Amy received her undergraduate education from Emory University in Atlanta, Georgia where she graduated with a Bachelor of Arts. She then spent a year in Washington, DC where she worked for the Children's Dental Health Project, a non-profit organization that promotes policies to improve children's access to oral health. Dr. Amy then went on to Tufts University School of Dental Medicine in Boston, Massachusetts where she graduated with a Doctorate of Medical Dentistry. Following dental school, Dr. Amy completed a two-year residency program in pediatric dentistry at New York University College of Dentistry and Bellevue Hospital. While in residency, she participated in two week-long dental outreach trips to treat the dental needs of an underserved community in Nicaragua.
After graduation, Dr. Amy worked as an associate at a pediatric dental practice in Long Island, New York, where she gained invaluable experience working with children. Dr. Amy is NERB, CPR, and PALS certified and is an active candidate for board certification from the American Board of Pediatric Dentistry. She is a member of several professional organizations including the American Academy of Pediatric Dentistry and the Raritan Valley Study Club.
Dr. Amy resides in Westfield with her husband Brett, daughters Chloe and Lyla, and their energetic Puggle puppy, Bodie.